NEWS & UPDATES
Press Releases
Digital Innovation, shaping the future of healthcare.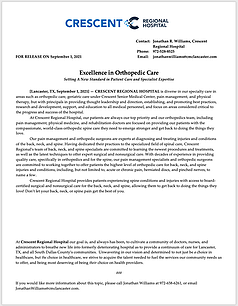 Excellence in Orthopedic Care
Setting A New Standard in Patient Care and Specialist Expertise
[Lancaster, TX, September 1, 2021] —
CRESCENT REGIONAL HOSPITAL is diverse in our specialty care in areas such as orthopedic care, geriatric care under Crescent Senior Medical Center, pain management, and physical therapy, but with principals in providing thought leadership and direction, establishing, and promoting best practices, research and development, support, and education to all medical personnel, and focus on areas considered critical to the progress and success of the hospital.
If you would like more information about this topic, please call
Jonathan Williams at 972-658-6261
---
At Crescent Regional Hospital our goal is, and always has been, to cultivate a community of doctors, nurses, and administrators to breathe new life into formerly deteriorating hospital as to provide a continuum of care for Lancaster, TX, and all South Dallas County's communities. Unwavering in our vision and determined to not just be a choice in healthcare, but the choice in healthcare, we strive to acquire the talent needed to fuel the services our community needs us to offer, and being most deserving of being their choice on health providers.